More in this Section
Cumbria County Council - The Library Edit Issue 2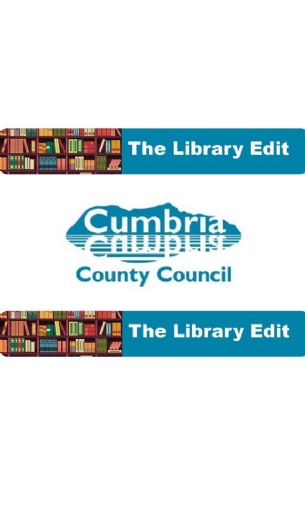 Cumbria County Council have been releasing newsletters containing some of the best websites and online resources to get you through lockdown, all chosen by library staff. Below is a selection of resources from this newsletter.

If books and reading are your thing, we have some more recommendations for you this week, and with suggestions for adults as well as children, there is something for everyone…..
The Big Book Weekend (BBW) update
Last week we brought you exciting news of this upcoming online book festival, which will take place between 8th – 10th May. The full line-up has now been released, and what an amazing 3 days it will be – The Library Edit team will be glued, and we are sure you will be too!
The Bookgig website offers a directory for the fantastic choice of live online festivals, gigs and events with bestselling authors for adults, young people and children. Upcoming live events planned for May include David Baldacci, Robert Webb and Adele Parks.
Calibre Audio offers a digital library service which is free to join for everyone who has a print disability and is prevented from reading due to sight loss, MS, MND, Dyslexia, ME, brain injury or any other disability. Their digital library service includes 11,500 unabridged audiobooks and over 3,000 titles specifically for children and young people, available on streaming, download, memory stick and MP3 CD.
Cumbria Library Service Online Book Club
We have launched our first ever virtual bookclub - join us on Facebook and on Twitter to discuss books, and generally have a natter. Staying socially connected is very important for keeping up morale and for supporting everyone's mental health as we adjust to this new way of living, so why not try our new virtual Reading Group - keep in touch and keep reading whilst social distancing! A title a month will be chosen, available in ebook and eaudio format on our Borrowbox platform.
Facebook: @CumbriaLibraryService
Twitter:@Cumblibraries
Author Anthony Horowitz has announced that he will share the writing process of his new Diamond Brothers book, Where Seagulls Dare, with children, online via his website. Readers will be invited to give him feedback and chapters will be shared as the lockdown continues, with the full, finished novel set to publish with Walker in 2021. Read the chapters as they appear.
National Literacy Trust - The Book Of Hopes : Words and Pictures to Comfort, Inspire and Entertain Children In Lockdown
Completely free for all children and families, this extraordinary collection of short stories, poems, essays and pictures has contributions from more than 110 children's writers and illustrators. It is dedicated to the doctors, nurses, carers, porters, cleaners and everyone currently working in hospitals.
Tom Hardy is back to read 6 new picture book stories on CBeebies from 27 April – 1 May.
Book Ideas Hub (World Book Day)
Fun crafty ideas and book-related resources that all the family can enjoy. Updated constantly over the coming weeks with great ideas to inspire younger and older readers alike.
Our library doors are currently closed but you can still access 500 audiobooks from the comfort of your home through uLIBRARY. Register for free and download the app to start listening. #TakeYourLibraryAnywhere
And finally, don't forget the Cumbria Library Service website, where library members can access a range of online services including FREE ebooks, eaudiobooks, digital magazines, comics and newspapers.
If you are not a library member you can access these services right away by joining online
here.

Experience the great outdoors, inside, as you #StayHome
Steve Backshall
Tune in every Wednesday morning at 9.30am as the TV Nature presenter goes live on his Facebook page to talk about his favourite subject….wildlife!
Facebook: @stevebackshallofficial
You can also see recordings of his previous live sessions on YouTube here.
The largest live nature cam network has everything from gorillas to flying foxes, great horned owls, wild dolphins or sea otters. Enjoy the natural world raw, unscripted and unedited as it unfolds in real time from Kenya, Africa to the riverbanks of Katmai, Alaska and everywhere in between.
Daily quizzes, videos, science experiments and even at-home classroom resources to inspire family exploration of the natural world.
Online map quiz games, covering both Europe and the U.S.
10 simple nature activities for kids to do at home.

Here are some good websites and apps to look at to find fun, free activities for your children while they're learning from home
To support teachers, parents and caregivers now tackling home-learning, the Puffin Schools website has been restructured to make Puffin books and resources accessible to children who need them. A huge collection of easy to discover resources to bring stories to life, including bite size activities and new categories such as Writing Prompts, Activity Ideas and Picture Book Packs.
Chat, play and read activities aimed at 0-5 years.
A large collection of free printable resources and craft activities for children, parents and teachers, and great ideas for creative learning activities for early years/primary age children.
Free access to children's creative writing activities led by authors, including a 10 minute creative writing challenge. Suitable for primary and secondary school children.
Aimed at secondary school level, this site is a joint effort from teachers, scientists and other experts bringing a multi-disciplinary approach to history.
From Spanish to Japanese, learn a language for free via the website or by downloading the mobile app. For primary age children up to adult.
Helps primary and secondary school students learn computer programming skills in a fun way.
Competitions and tasks to win Blue Peter badges.

If you are interested in music, art, theatre, galleries, museums and all things cultural, these are "must visit" websites…..
A new play released every Thursday with bonus cast and creative content. Watch Frankenstein, directed by Danny Boyle and starring Benedict Cumberbatch, from Thursday 30 April 2020.
Secret Sofa from Secret Cinema
Dress up each Friday night and stay in to watch some of the greatest films alongside thousands of others.
Recommended by the Royal Academy
Nine top-notch virtual exhibitions to watch online from the comfort of your home.

Be inspired and get creative, with these amazing websites…..
On Friday 8 May 2020 Britain will be commemorating the 75th anniversary of VE Day when the guns fell silent at the end of war in Europe. However, due to the coronavirus restrictions most VE Day 75 events and street parties have had to be cancelled or postponed. This site contains all the templates and step by step instructions you need to make your own special VE Day 75 'Great British Bunting' to display in your window at home to mark the occasion and honour the men and women of WW2. The site also tells you how to upload your bunting pics to the BBC website.
not to be missed opportunity to find out how you can unleash your creativity with one of Britain's leading artists – Grayson Perry will help you find your inner artist during lockdown on Channel 4 and on the Channel 4 website.
Fun family Dance Workshop for children aged 2-6 years.
Fabulous tutorials (from the people who know how to make teaching resources) to share visual arts inspiration at home.
Apps, Podcasts, and TV shows with real screen-appeal...
YouTube Kids App
This app has a dedicated learning category, collating great videos about science, nature, space and other topics – aimed at early years/primary age children.
Read On : The Audiobook Show (RNIB)
A weekly show recorded at the RNIB talking book studios. Talking to favourite adult authors and narrators. Also RNIB Tech Talk podcast for blind and partially sighted people who are interested in accessible technology. RNIB Connect reports in podcast form from RNIB Connect radio. RNIB Sport for blind and partially sighted people interested in sport.
Conversations with some of our leading authors and creative thinkers, as we seek to understand how they write and where their ideas come from. Guests bring to the interview a handful of objects that have inspired their work. Promising to "bring to life the stories behind the books to understand where ideas come from". Penguin Random House Audio, which won two Gold Awards at the New York Festivals Radio Awards last night (21st April), explained it was increasing the frequency of its podcast in light of "a rise" in recent weeks in podcast listening as a result of people spending more time at home. Upcoming confirmed guests include Curtis Sittenfeld, Mark Gatiss and David Harewood.
Children's radio station Fun Kids meet and interview top authors who talk about their books and read chapters from them. Recent podcasts include Michael Rosen, Julian Clary, David Walliams and Tom Fletcher.
Behind the scenes of the award winning current affairs magazine for 8-14 year olds. Debate about the week's hot topics and in 'Real or Rubbish' discover whether news is fake or the real deal.
David Walliams Marvellous Musical Podcast (Classic FM)
David Walliams goes on a fun, musical journey of discovery meeting some of the most famous names in the history of music. For children and families to enjoy.
Richard & Judy: Keep Reading and Carry On
Starting on 4th May at 5.30pm. Produced by Label1, it will be a "fast turnaround" five-part series, airing over one week. Shot from their home, the TV hosts will discuss new releases and share their top recent reads. Aimed at adults.
Jamie Oliver: Keep Cooking and Carry On
Channel 4 series of easy recipes, cooking tips and ingenious hacks for stay at home cooking. All ages.

Join in with the 2.6 Challenge to help save the UK's charities. Whatever your age or ability, you can take part. They're not looking for superheroes, but for Home Heroes, to help those charities who would have benefited from The London Marathon, had it run, and who have had to reduce or stop services at a time when vulnerable members of society need them most. Press-ups, hula hooping, online workouts, chair exercises – they all count!
#StayInWorkOut with Active Cumbria
And if you are looking for ideas for the 2.6 Challenge…..Active Cumbria have brought together a brilliant list of online exercise websites into one handy place. The recommended sites are for different ages and abilities, to keep you active in and around your home. There literally is something for everyone here!
This Scottish charity, which usually delivers health walks, has devised some top tips to help you make the most of your one hour a day social distancing walk.
Simon McCall, a Walk Leader for Walking for Health, has put together a short virtual walk of Silloth, in Cumbria, located on the shores of the Solway Firth.
For telephone and helpline information please see the below copy of the Cumbria County Council newsletter.