More in this Section
UVHS Virtual Library

Hello and welcome to the UVHS Library!
My name is Mrs Downing and I am sorry you are unable to visit the School Library at the moment. Instead I hope to showcase our new books and recommended reads through the school website.
Students may borrow books via their Form Teacher who will then E-mail me with the request.
UVHS Library recognises that access to books, recreational reading and quality information has never been more important.
Keep reading and I hope to see you all back in the Library soon! - Mrs Downing

---
Audio Book Club
National Literacy Trust will be re-launching their free audio book club: Behind the Cover with a one off winter edition.
Behind the Cover Club is for female students who are 16 and over. Through the book club we celebrate books written by bestselling writers who put women at the heart of their stories.
This winter we are delighted to be celebrating the Booker nominated title, Burnt Sugar by Avni Doshi. Once students have signed up they will be able to download the audiobook for free until the 31st January 2021.
Students will be able to access exclusive book club resources through the Behind the Cover webpage and can join the conversation on social media using the hashtag #BehindtheCoverClub,
---

Year 7 - Bingo Reading Challenge
Introducing the Bingo Reading Challenge! Year 7s will receive a Bingo sheet in form time. The idea is to not just to encourage our Year 7s to read but to also discover different genres.
Prizes and certificates will be awarded for lines or full houses and we will run this challenge up to Easter so they will have plenty of time!
Year 8 - The Reading Tree Challenge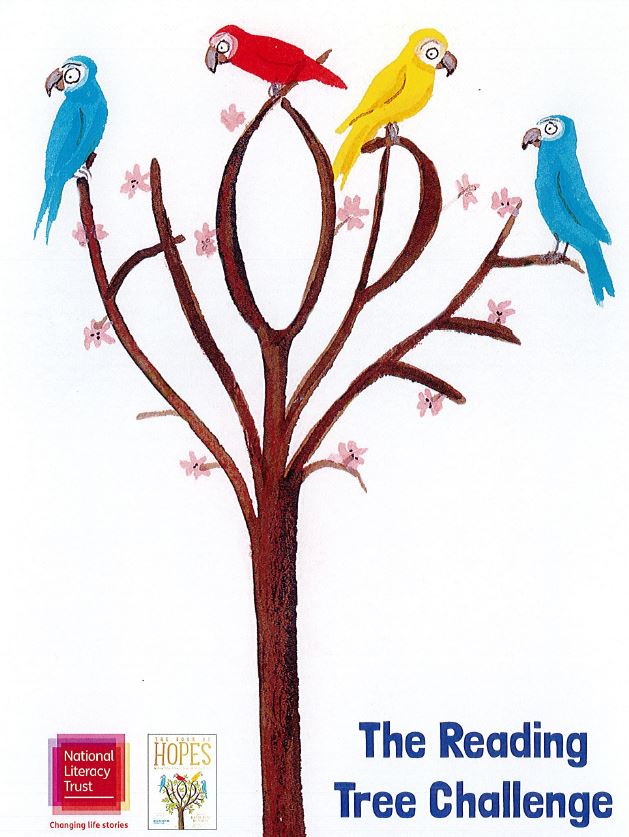 Year 8s will receive packs in forms containing the start of a Reading Tree. As they read the books, they fill in the leaves and add them their tree. They can then review and discuss their book choices.
There will be prizes and certificates for the healthiest trees!
We will run this challenge up to Easter so there's plenty of time to cultivate a love of reading and a fine specimen of a tree!
If you would like any book recommendations for either of these challenges, just ask Mrs Downing!
New to the library - October 2020

The Girl Who Speaks Bear by Sophie Anderson
'They call me Yanka the Bear. Not because of where I was found – only a few people know about that'
'Found abandoned in a bear cave as a baby, Yanka has always wondered where she is from. She tries to ignore the strange whispers and looks from the villagers, wishing she was as strong on the inside as she is on the outside. When Yanka has to flee her house, looking for answers about who she really is, a journey far beyond anything she ever imagined begins – from icy rivers to smouldering mountains, meeting an ever-growing herd of extraordinary friends along the way.'
---

Crime Stories by Penny Bates, David Belbin, Alan Durant and Anne Rooney
'Four killer stories to keep you guessing…
Murder happens where you least expect it…
A text message sent in error leads to body parts in the post.
A case is opened – then shut too quickly…
You are told you are guilty, but you have no idea what you did…'
---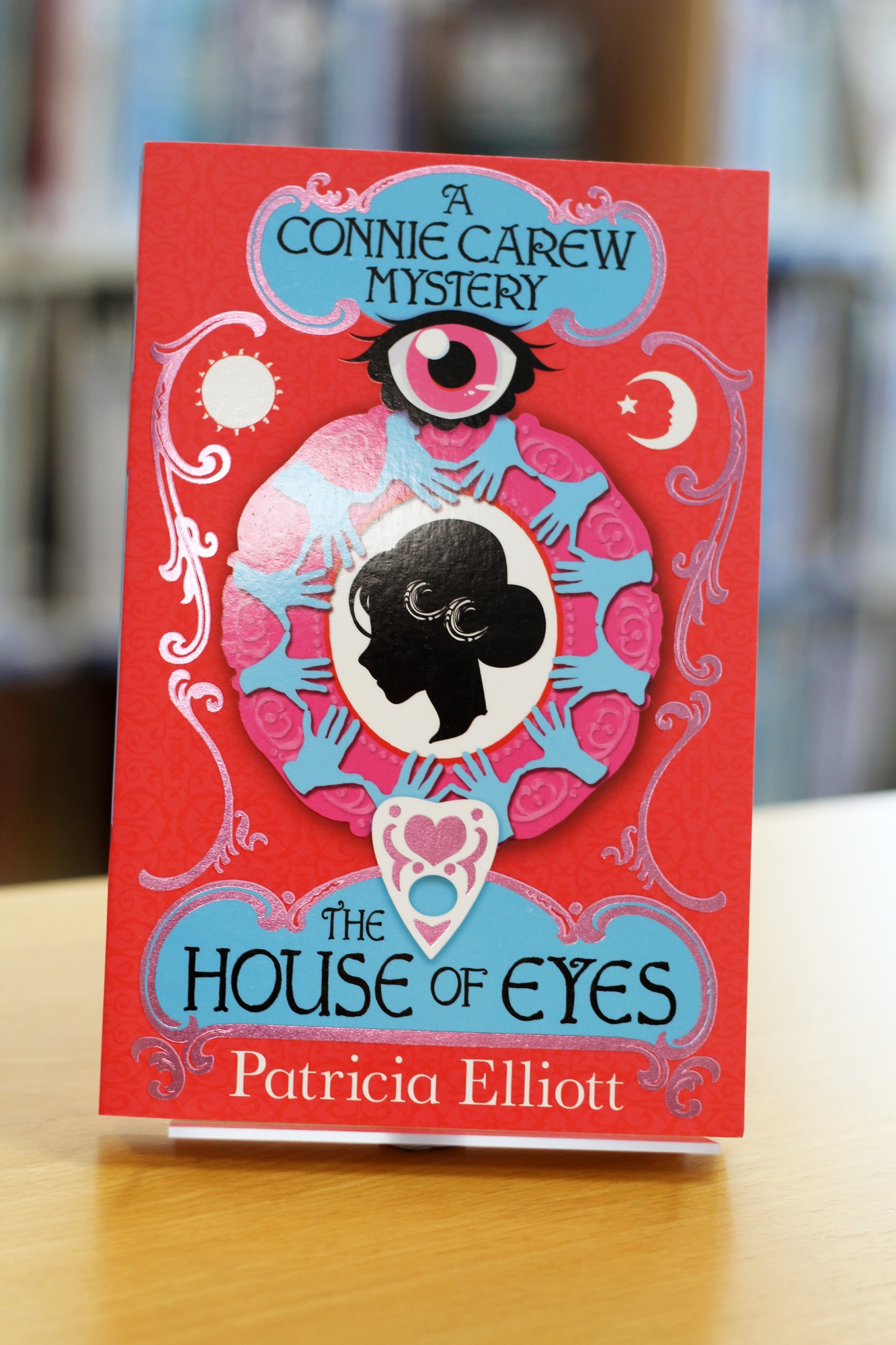 The House of Eyes by Patricia Elliot
'Connie Carew loves science and secrets…
In the house of eyes, both the living and the spirit world are watching.
When beautiful Ida arrives, claiming to be Connie's long-lost cousin, everyone is thrown into turmoil. Connie desperately wants Ida to be telling the truth, but the evidence is against her.
The police and the family have raked over the past. With someone out to stop her, will Connie find the answers?'
---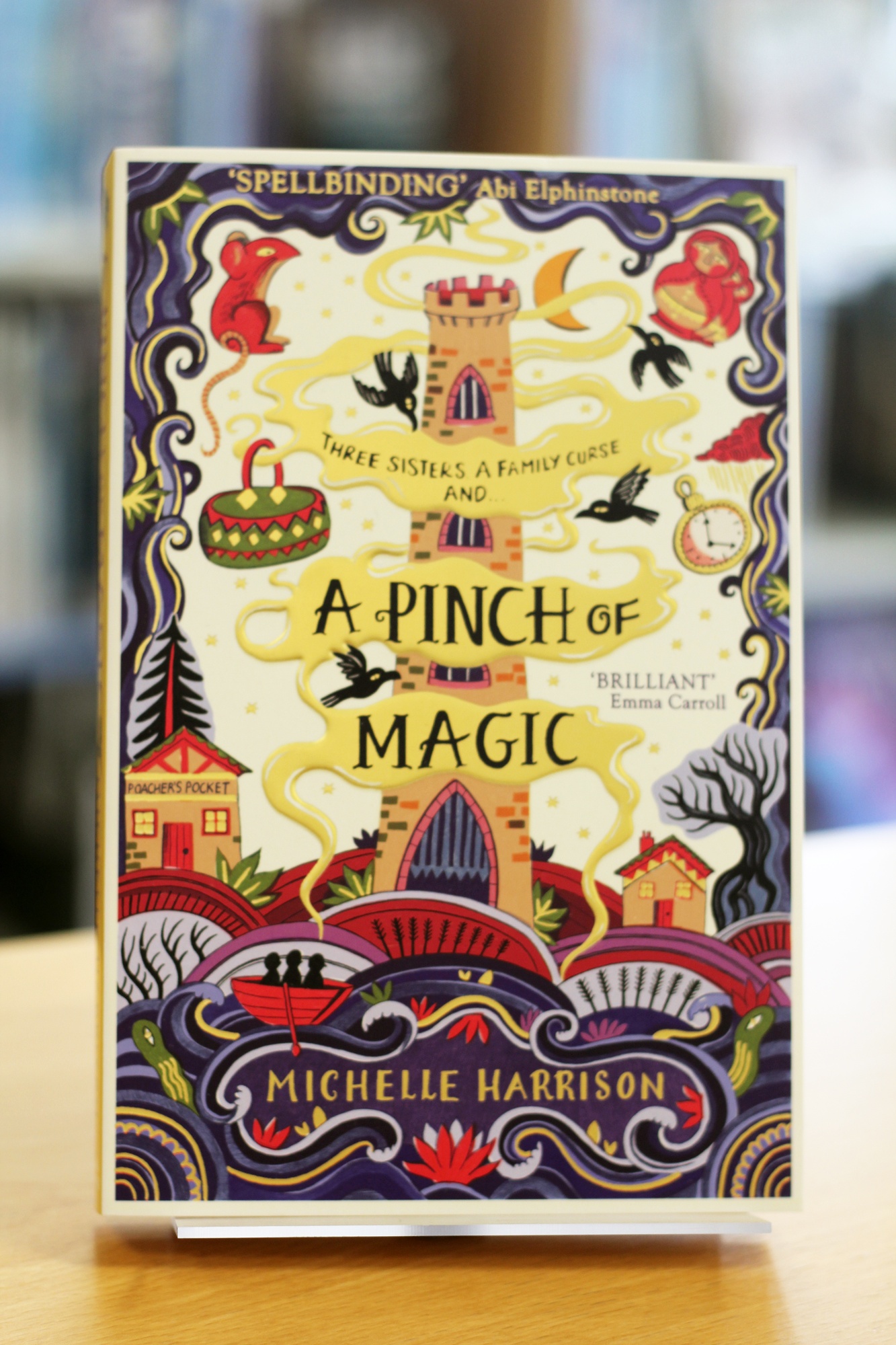 A Pinch of Magic by Michelle Harrison
'Three sisters trapped by an ancient curse.
Three magical objects with the power to change their fate.
Will they be enough to break the curse?
Or will they lead the sisters even deeper into danger…?'
---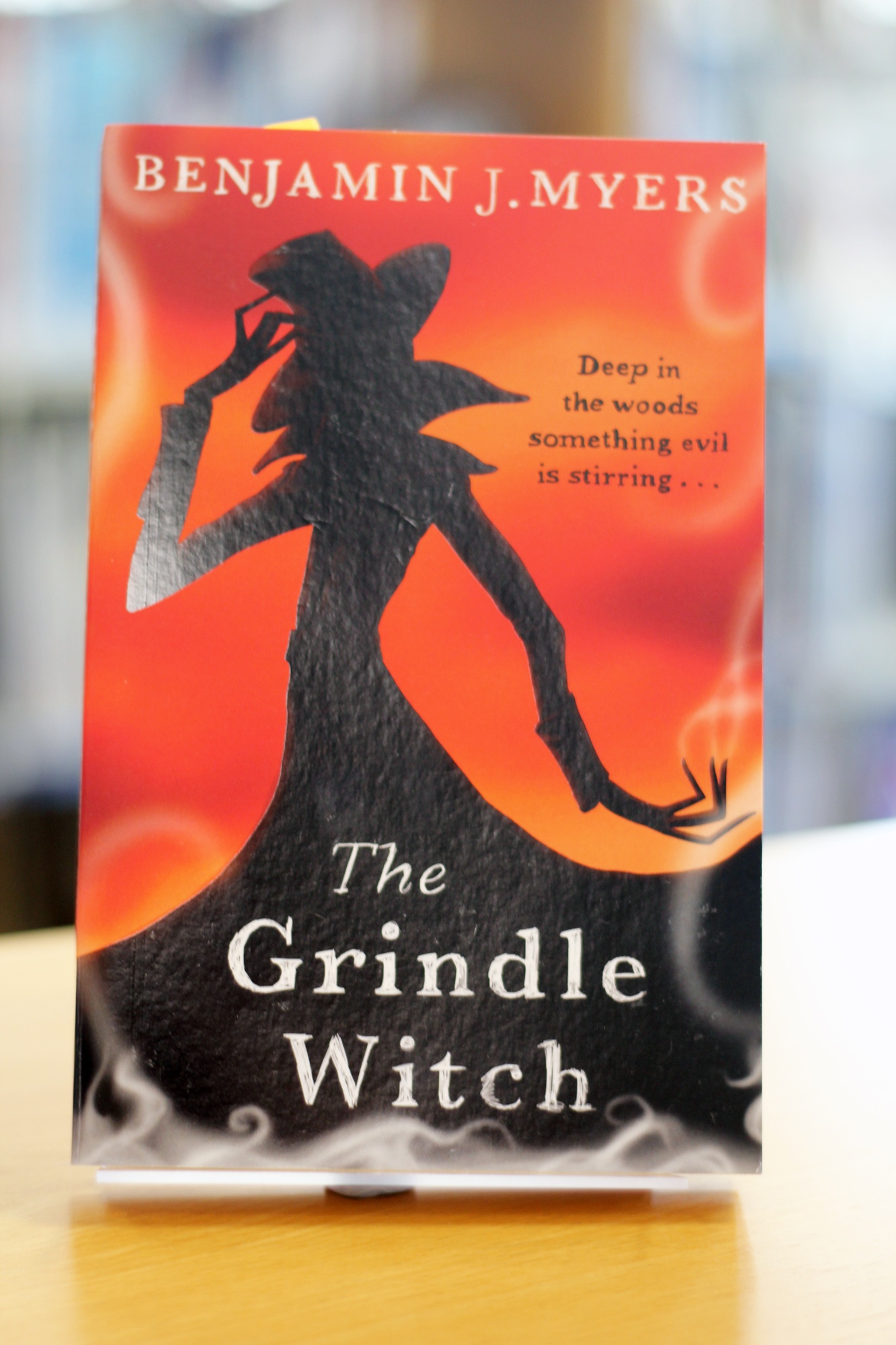 The Grindle Witch by Benjamin J. Myers
'Beware the Grindle Witch…
City boy Jack Jolly thinks that life in the country village of Grindle is going to be boring, until he finds himself plunged into the middle of a terrifying mystery and forced to confront an ancient evil – the Grindle Witch.
Jack joins forces with friends, Paddy and Leila, to try and stop the witch from killing, but the drastic measures they take produce unexpected and creepy results.'
---

Dead Man's Cove by Lauren St John
'What I want,' Laura declared, is to have a life packed with excitement like some of the characters in my books.'
'Orphaned Laura is sent to live with her Uncle in Cornwall, convinced that a life of adventure is hers at last. But everywhere she turns she's confronted with mysteries. Is Tariq, the shopkeeper's silent son, a friend or an enemy? Why does her uncle seem content in erasing his own past? And why is everyone so afraid of Dead Man's Cove?'
---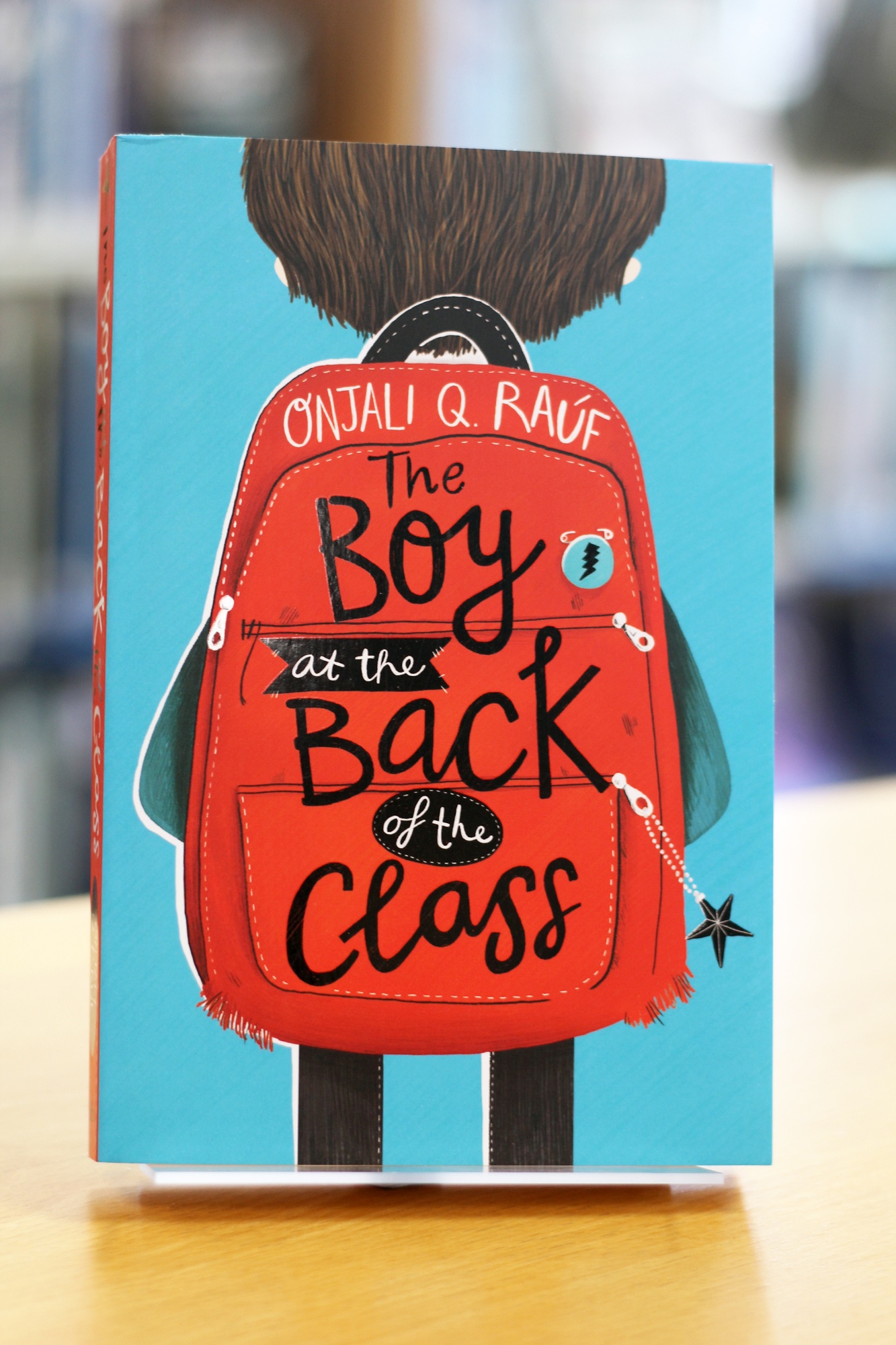 The Boy at the Back of the Class by Onjali Q. Raúf
'There used to be an empty chair at the back of my class, but now a new boy called Ahmet is sitting in it.
He's nine years old (just like me), but he's very strange. He never talks and he never smiles and doesn't even like lemon sherbets, which are my favourite!
But then I learned the truth: Ahmet isn't strange at all. He's a refugee who's run away from a War. A real one. With bombs and bullies that hurt people. The more I find out about him, the more I want to help.
That's where my best friends Josie, Michael and Tom come in. Because together we have come up with a plan…'
---
The Star Outside my Window by Onjali Q. Raúf
'I've always wanted to be a Star Hunter. Grown-ups call them astronomers, but I think Star Hunter sounds much better. I was going to become one when I finished school, but I can't wait that long anymore. You see, I have to find my mum.
Everyone says she's gone, but I know that's not true – I know she's turned into a star. She's breaking all the rules of the universe to find me again. And I'm going to break all the rules I know to help her do it.'
---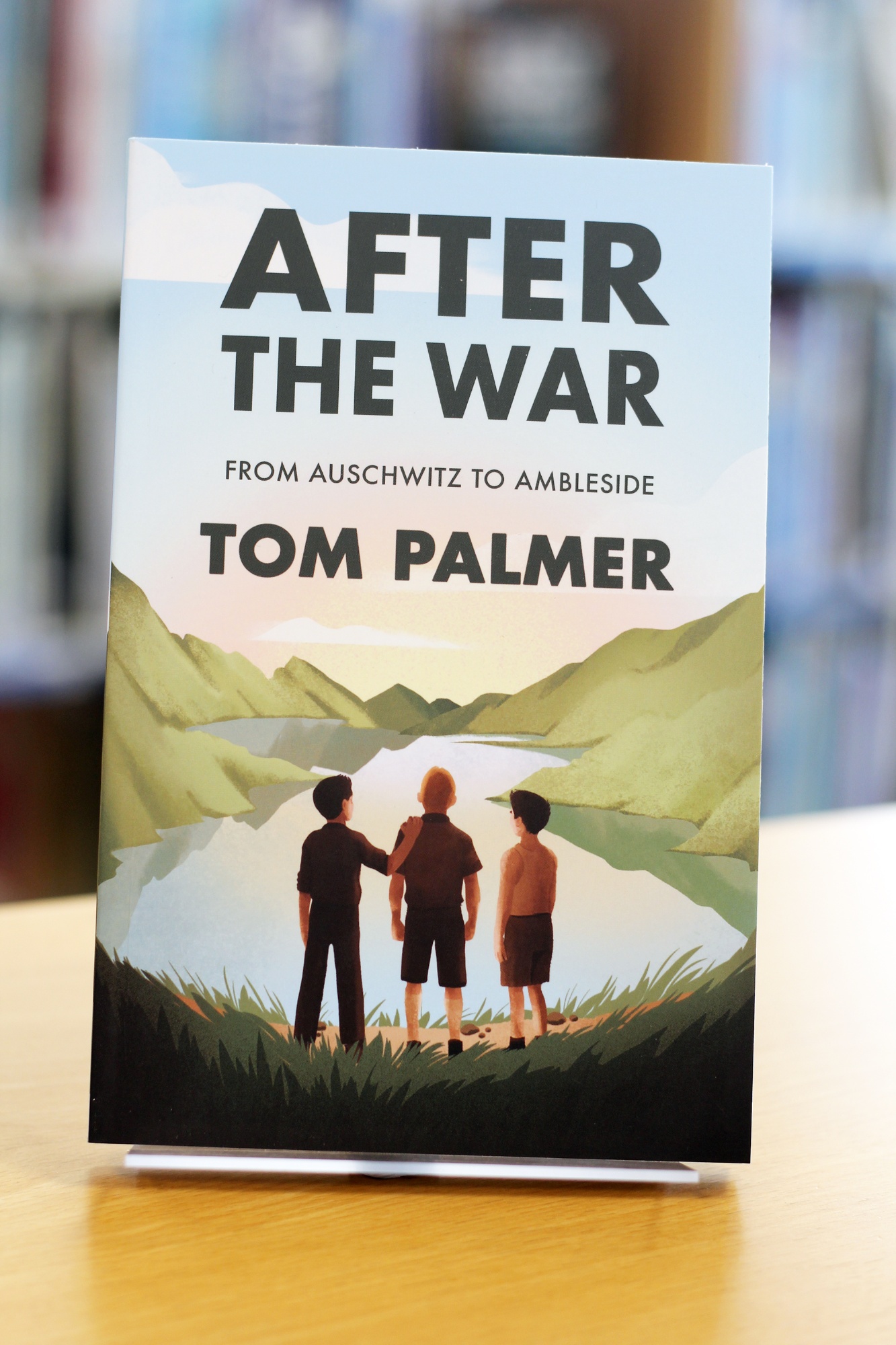 After the War by Tom Palmer
'Summer 1945. The Second World War is finally over and Yossi, Leo and Mordecai are among three hundred children who arrive in the English Lake District. Having survived the horror of the Nazi concentration camps, they've finally reached a place of safety and peace, where they can hopefully begin to recover.
But Yossi is haunted by the thoughts of the loved ones he has lost and disturbed by terrible nightmares. As he waits desperately for news of his missing father, he fears that Mordecai and Leo – the closest thing to family he has left – will move on without him. Will life by the beautiful shore of Lake Windermere be enough to bring hope back into all of their lives?'
---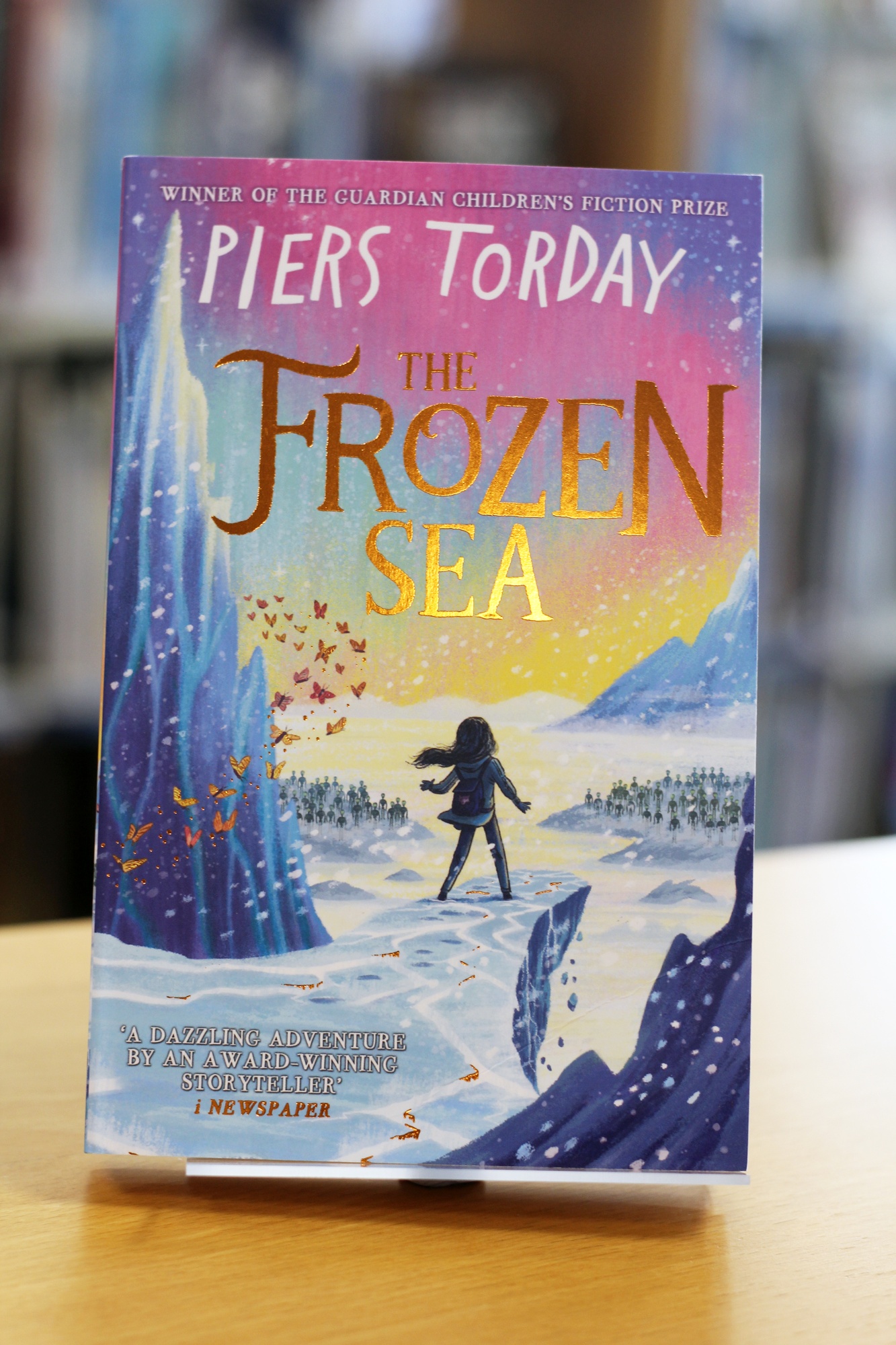 The Frozen Sea by Piers Torday
'Jewel Hastings is about to discover that she is one of the most remarkable people who have ever walked the earth.
On the run from school bullies, Jewel tumbles through the door of a mysterious bookshop, and falls into Folio, the world of the imagination. There, she must rescue her aunt, helped only by her rude pet hamster Fizz and a malfunctioning robot.
From the shimmering lights of the Idea Jungle, to the desolate expanse of the Frozen Sea, their dangerous mission is more deadly and magnificent than they ever imagined'
---
To borrow any of these books, please email your request to Mrs Downing library@uvhs.uk or complete this online form.
New to the library - November 2020
The Colour of the Sun by David Almond
'The day is long, the world is wide, you're young and free.'
One hot summer morning, Davie steps boldly out of his front door. A boy has been killed, and Davie thinks he might know who is responsible. He turns away from the gossip and excitement and sets of roaming towards the sunlit hills above the town.
As the day goes on, the real and imaginary start to merge, and Davie knows that neither he nor his world will ever be the same again.'
---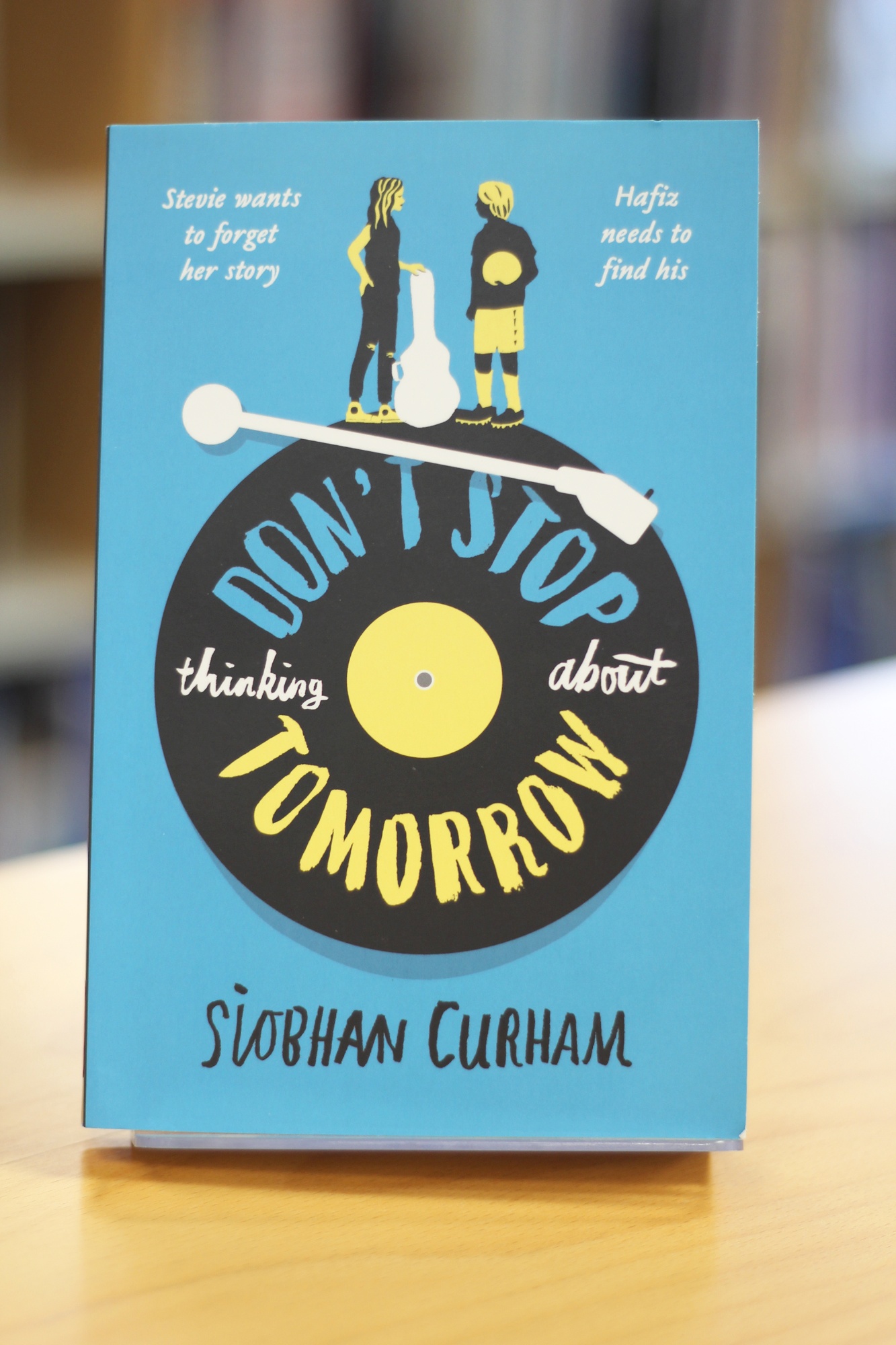 Don't Stop Thinking About Tomorrow by Siobhan Curham
'Stevie is passionate about music. It's what keeps her going when things are particularly difficult at home.
Hafiz loves football. But he's hardly played since he set out on the long journey from Syria.
Together the two forge a unique friendship that will help save them both.'
---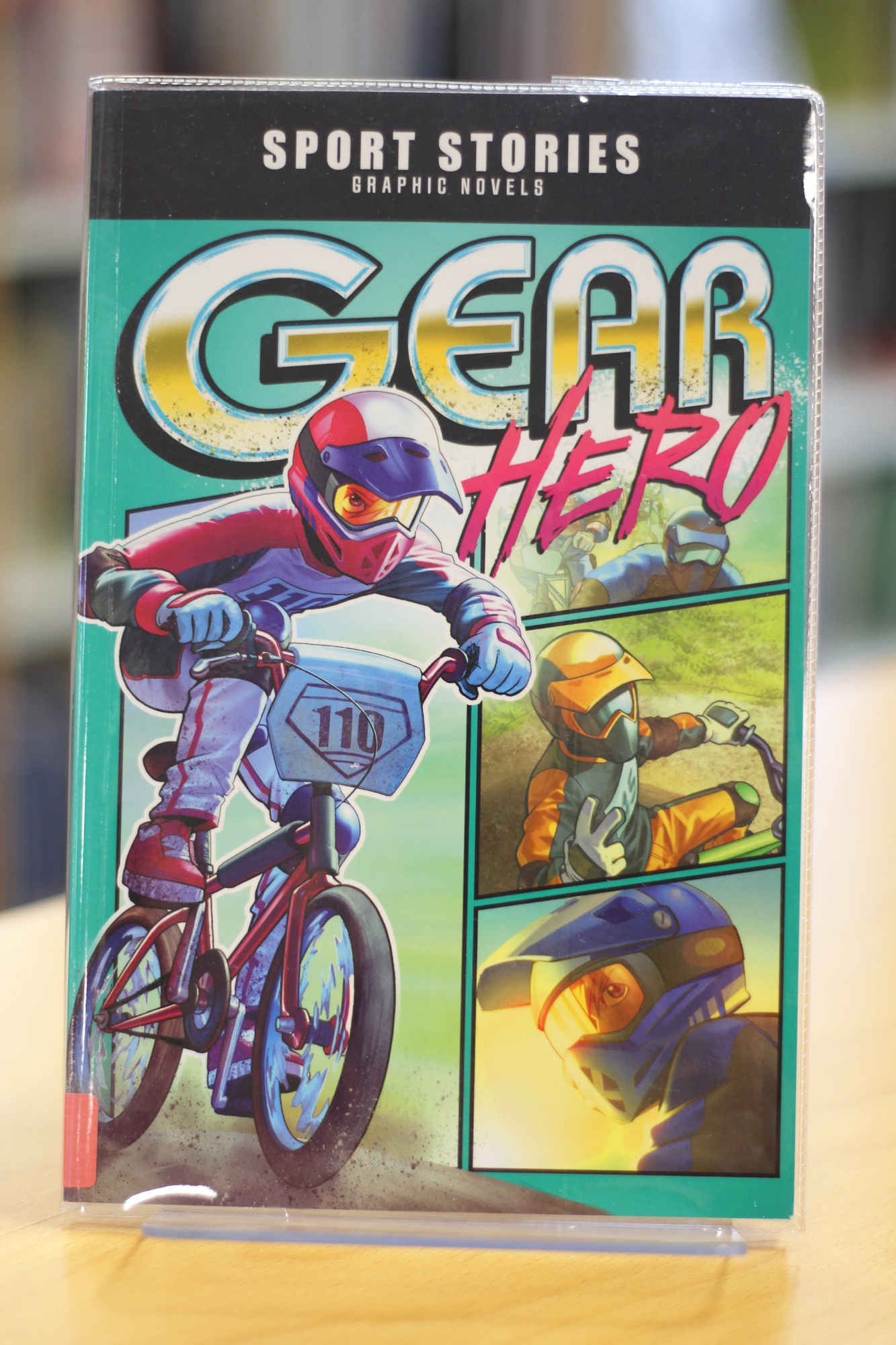 Gear Hero illustrated by Eduardo Garcia and Benny Fuentes. Cover illustration by Fern Cane
'Nelson Greenwood loves BMX racing almost as much as he loves drawing superheroes. His own comic book hero, Major Speed isn't afraid of anything, much like Nelson's twin brother, Nick. When Nick crashes hard and is forced out of the BMX-Treme competition, he wants Nelson to take his place. However, Nelson doesn't think he has what it takes to compete – especially against Nick's nemesis, Cain Otto. Can Nelson shift gears and muster the courage of Major Speed to compete in the big race?'
---
The Year We Fell from Space by Amy Sarig King
'When Liberty's parents separate, she doesn't know what to do. She feels she's on a different planet, and gravity is collapsing around her.
Other planets in her solar system: Her Dad who has drifted and is keeping secrets. Her mum, who is not imploding, like every expects. And her sister, who seems in a galaxy of her own.
Can Liberty save her system before they fall into it?'
---
A House Without Walls by Elizabeth Laird
'Thirteen-year-old Safiya and her family have been driven out of Syria by civil war. Safiya knows how lucky she is – lucky to be living near family and not in a refugee camp, lucky to be alive.
But it's hard to feel grateful when her house is a tent and as they struggle to survive, Safiya realizes that her family has always been incomplete. With her own future in the balance, it's time to uncover the secrets that war has kept buried.'
---
Lark by Anthony McGowan
'Things are getting tense at home for Nicky and Kenny as they wait for a visit from their estranged mum. To escape, they go for a walk on the moors, taking their little Jack Russell terrier with them.
But what should have been a laugh, a lark, turns deadly when the weather changes and they are caught in a blizzard. Nothing will ever be quite the same again…'
---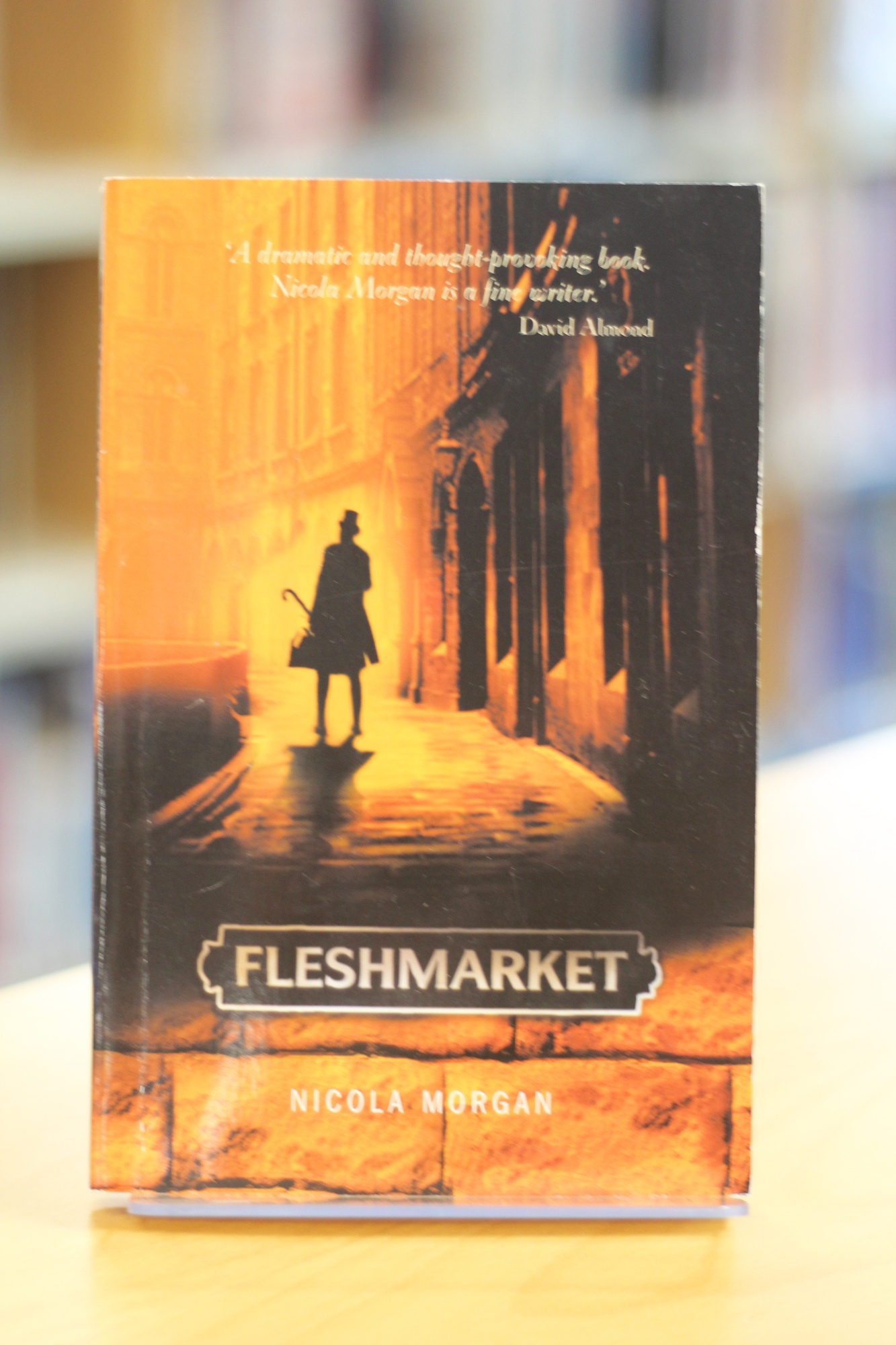 Fleshmarket by Nicola Morgan
'It is Edinburgh, 1828, and Robbie is haunted by the horror of his mother's death at the hands of the famous surgeon, Dr Robert Knox. The operation was intended to save her life. Instead it brought her intolerable pain before it killed her. Now her family is torn apart, and living in appalling poverty. A separate Robbie is intent on Revenge on Knox. But how far is he prepared to go – and what will he lose in the process?'
---
Armistice Runner by Tom Palmer
'Lily has lots of worries. She's struggling to compete in her fell-running races and, worse, she's losing her gran to Alzheimer's. But then she discovers her great-great-grandfather's diaries from the First World War. Could his incredible story of bravery help her reconnect with her gran and even give her the inspiration she needs to push through and win?'
---
Lampie: A Seaswept Fairytale Adventure by Annet Schaap
'Every morning Lampie the lighthouse keepers daughter must light a lantern to warn ships away from the rocks. But one stormy night disaster strikes. The lantern goes out, a ship is wrecked and an adventure begins.
In disgrace, Lampie is sent out to work as a maid at the Admiral's Black House, where rumour has it a monster lurks in the tower. But what she finds there is stranger and more beautiful than any monster. Soon Lampie is drawn into a fairytale adventure in a world of mermaids and pirate, where she must fight with all her might for friendship, freedom and the right to be different.'
---
She Is Not Invisible by Marcus Sedgwick
'Two dried mice. A fluffy raven called Stan. A suicidal Austrian Biologist…
Is it a coincidence or something more sinister that draws them together? Many strange things collide in Laureth Peak's life on hot August weekend. Perhaps the strangest of all is the way her dad has been acting lately. And now he's disappeared. It looks as if his obsession with coincidences might have fatal consequences'

---
Fated by Teri Terry
'Sam's cosy life as daughter of the Deputy Prime Minister is about to end. These are turbulent times. Boarders have been closed and protests are turning violent. The government blames the country's youth, and is cracking down hard. Mobile phones are blocked, gatherings are banned and dissent is brutally crushed.
Sam is torn between family loyalty and doing what is right. When she meets Ava and Lucas her mind is made up.
One girl, one choice. She can make a difference: she must. Even if her life – and her heart – ae on the line…'
---
On the Come Up by Angie Thomas
'Sixteen-year-old Bri wants to be one of the greatest rappers of all time. It's hard to get your come up, though, when you're labelled "trouble" as school and your fridge at home is empty after your mom loses her job. But Bri's success is all that stands between her family and homelessness, so she doesn't want to just make it – she has to. Even if it means becoming exactly what the public expects her to be.'
---
The Ghost of the Trenches and Other Stories from the First World War by Helen Watts & Taffy Thomas
'From the tragedy of the First World War, legends grew
Trapped soldiers are saved by an army of angles. A hunted U-boat terrifies its crew. A village remembers a lost son. An officer sees the ghosts of a long finished war…
This collection brings together folk tales, legends and ghost stories that grew up around the First World War. Fascinating, moving, sometimes scary, these are the stories told by soldiers and the people they left behind, on both sides of the conflict.'
---
The Illustrated Mum by Jacqueline Wilson
'Marigold is my bright, beautiful mum. She's covered in tattoos, head to toe. I think she's the most magical mum in the world. I sometimes just wish she looked after us better.'
---
A Sky Painted Gold by Laura Wood
'When Lou steals inside the grand Cardew house in the dreamy summer of 1929, she is drawn to the lives if the Cardew siblings – glittering whirlwind Caitlin and handsome, enigmatic Robert.
But as Lou is swept into their dazzling world of moonlit parties, unrivalled glamour and whispered secrets, can she stay true to her self and her heart?'
---
To borrow any of these books, please email your request to Mrs Downing library@uvhs.uk or complete this online form.
New to the library - January 2021
Philosophy for beginners by Jordon Akpojaro, Rachel Firth & Minna Lacey. Illustrated by Nick Radford
'Do you believe in everything you're told, or do you prefer to think things out for yourself? Do you seek answers to BIG questions such as how to really know that something is true, or how to be good and fair to all people? Do you suspect that maybe, just maybe, the truth is out there? If YOU have a curious, enquiring mind, then this book is exactly what you're looking for.'
---
Everything all at once by Steven Camden
'It's about fitting in, finding friends and falling out, loving lessons, losing it, worrying, wearing it well and worshiping from afar.'
---
Beverly, Right Here by Kate DiCamillo
'Beverly Tapinski has run away from home plenty of times before, but now that she's fourteen she figures it's not running away. It's leaving.
Determined to make it on her own, Beverly finds a job and a place to live and resolves not to depend on anyone – or have anyone depend on her.
But despite her best efforts, she can't help forming connections with those around her. And as she does, Beverly begins to see herself through their eyes.'
---
Unlocking the Universe by Stephen & Lucy Hawking
'What would it have been like to walk the lava-filled Earth four and a half billion years ago?
How would it feel to stand beside an erupting volcano? Or take your first step on the surface of the Moon?
And what would you do if robots took over the world?
Lucy and Stephen Hawking's George's Secret Key to the Universe series was a global hit, and for the first time the fascinating real-life facts and scientific theories from the books have been collected in to one volume – alongside brilliant brand-new content from key scientists from all over the globe. Beautifully illustrated by Jan Bielecki and absolutely bursting with facts and figures, this is the perfect guide to everything you've ever wanted to know about the universe.'
---
Charlotte Bronte's Jane Eyre a retelling by Tanya Landman
'After a miserable childhood, the offer of a job at Thornfield Hall seems to promise Jane Eyre a brighter future.
But joyless laughter echoes along its corridors. Strange things happen in the dead of night. Secrets lurk in the attic.
When Jane meets the owner of Thornfield Hall – the enigmatic, brooding Mr Rocherster – her life is changed forever. For better? Or for worse?'
---
Simone Biles: Golden Girl of Gymnastics by Sally J. Morgan
'In 2016, a young gymnast won four gold medals at the Olympics
Discover the story of Simone Biles, superstar athlete and world champion! On a trip to the local sports center a as child, Simone discovered her natural talent for gymnastics. She signed up for regular training sessions and was soon performing incredible routines at competitions. Despite a challenging start in life, Simone has gone on to become one of the world's greatest athletes.'
---
Where the World Turns Wild by Nicola Penfold
'Animals, trees, flowers, our city forbids them all…
For juniper and her little brother Bear, escaping their cage of a city has always been a secret dream. But when scientists discover the siblings are key to a merciless plan, their escape becomes more than that. Now it's a flight for their lives.
As Juniper and Bear journey further from the city, they soon learn that there's cruelty in nature as well as beauty. Will they ever find the home they are searching for?'
---
Seven Ghosts by Chris Priestley
'Jake and the other finalists in a story-writing competition have been invited to a stately home for a tour like no other. As their guide leads them through grand rooms, hidden nooks and magnificent grounds, they are about to hear the stories of seven ghosts who haunt these walls.
But strange shapes and shadows follow Jake as he journeys through the house. The tour guide's behaviour becomes ever more suspicious. With each tale that he hears, Jake begins to feel more uneasy, and soon he will discover that something is very, very wrong…'
---
Look Both Ways by Jason Reynolds
'When the bell rings and school is finished for the day, the walkers are finally set free. For ten blocks they have no-one telling them what to do; they can talk about bogies, skateboard, plan dramatic escapes, make jokes, face bullies, and hear about the school bus that fell from the sky…
From hilarious escapades to brave challenges, join the walkers for one more journey and many, many detours…'
---
Pumpkin Heads by Rainbow Rowell & Faith Erin Hicks
'Deja and Josiah are seasonal best friends.
Every Autumn, all through high school, they've worked together at the best pumpkin patch in the whole wide world. They say goodbye every Halloween, and they are reunited every September 1st.
But this Halloween is different – Josiah and Deja are finally seniors, and this is their last season at the pumpkin patch. Their last shift together. Their last goodbye.
Josiah's ready to spend the whole night feeling melancholy about it. Deja isn't ready to let him. She's got a plan: what if instead of moping they went out with a bang?
What if their last shift was an adventure?'
---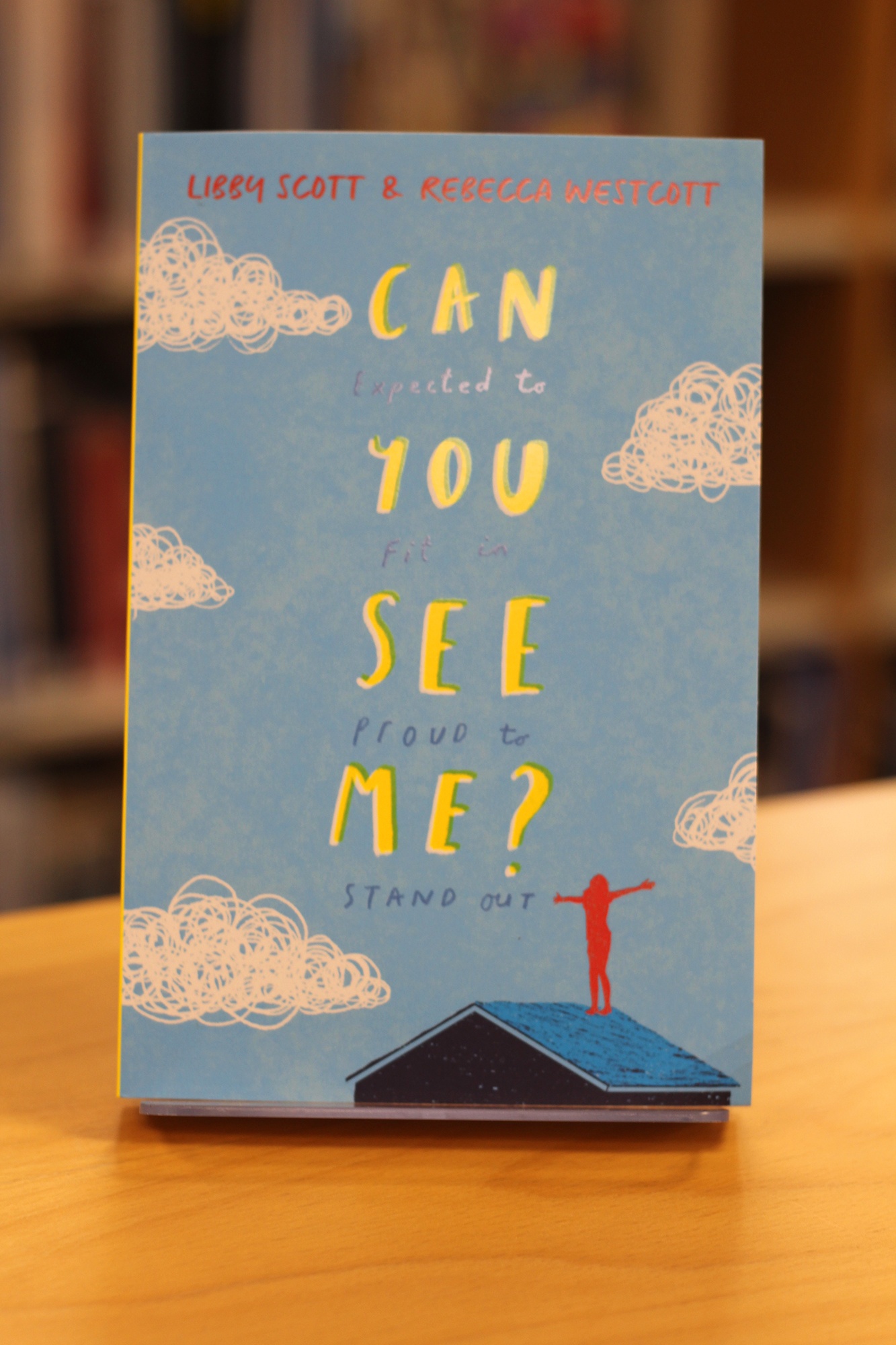 Can you see me? by Libby Scott & Rebecca Westcott
'Tally is autistic, but she hides it as much as she can. She knows how uncomfortable people feel around her – they don't understand Autism. They don't understand her.
By masking her autism, Tally is hiding her real self. But when your real self is fierce and wonderful, it can't stay hidden forever.'
---
​​​​​​​Clean Getaway by Nic Stone
'How to go on an unplanned road trip with your Grandma: Grab a suitcase. Fasten your seatbelt. Use the Green Book.
Buckle up for an always exciting (and sometimes surprising) road trip through the American South with Scoob, an eleven-year-old boy who is about to discover that things aren't always what they seem…his Grandma included.'
---
​​​​​​​​​​​​​​Malamander by Thomas Taylor
'Who will uncover the secret of the Malamander?
In the basement of the Grand Nautilus Hotel, a mysterious girl crashes into Herbie Lemon's room and cries, "Hide me!"
In the window of the Eerie Book Dispensary, a mechanical mermonkey sits and waits.
And out beyond the pier, something stirs. Could the legendary malamander have returned?'
---
​​​​​​​100 Things to Know About Saving The Planet
'Treating jaguars like people could stop them from dying out.
Protecting a forest could help protect the sea.
Recycled jeans can keep houses warm.
A walking bus cuts pollution from cars
Eating less beef saves water
Scientists knit sweaters to save the penguins.
Painting buildings white cuts carbon emissions
A see vault guards crops against climate crisis'
---
To borrow any of these books, please email your request to Mrs Downing library@uvhs.uk or complete this online form.