More in this Section
Cumbria County Council - The Library Edit Issue 3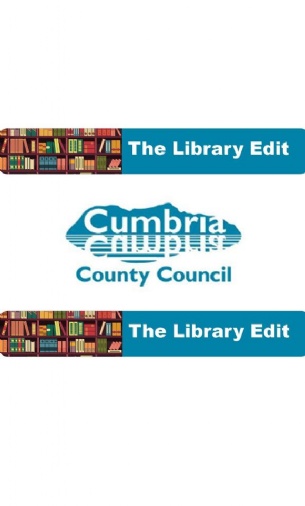 Cumbria County Council have been releasing newsletters containing some of the best websites and online resources to get you through lockdown, all chosen by library staff. Below is a selection of resources from this newsletter.

If books and reading are your thing, here's this week's "go to" websites …..
Everybody Worries : Free ebook for children
Everybody Worries written and illustrated by Jon Burgerman is a bright and friendly picture book, in which children learn that it's okay to worry about coronavirus. Rhyming couplets keep the tone gentle and supportive, with plenty of ideas for dealing with coronavirus in a positive way.
Free Tom Palmer story and resources
The RAF Museum's Children's Author in Residence, Tom Palmer, has written a time travelling short story, commemorating the 80th anniversary of the Battle of Britain. Join Yusra, Lily and Danny on their amazing adventures.
And finally, don't forget the Cumbria Library Service website, where library members can access a range of online services including FREE ebooks, eaudiobooks, digital magazines, comics and newspapers.
If you are not a library member you can access these services right away by joining online
here.

Experience the great outdoors, inside, as you #StayHome
Environmental Film Festival (Washington DC)
Free streaming of films from the world's premier showcase of environmentally themed films. The festival celebrates Earth and inspires stewardship of the environment through the power of film.
Some excellent tips and resources for getting up close with nature through forest bathing, storytelling and being mindful at home.
Institute of Zoology Wild Science podcasts
Delve into topical issues in zoology, conservation and the environment, from saving species and protecting the planet, to finding out about the animals living across the globe, including in London's own river Thames.
Challenging and entertaining quiz games to improve your knowledge of the world.

Here are some good websites and apps to look at to find fun, free activities for your children while they're learning from home.
This is a Government-backed collection online lessons and resources created by teachers in response to the coronavirus lockdown. Lessons and resources are updated every week and are suitable for primary and secondary school age groups.
A wide range of free home learning lesson packs for use by parents, carers and teachers. The packs are presented by year group and cover early years, primary, secondary and special needs.
A national home learning website for parents and carers with advice from qualified teachers on home learning strategies, resources, behaviour and special educational needs. There is also a helpline – 03303 139162 – which is open 6 days a week.
National Literacy Trust Skills Academy
This programme is now free online. A reading intervention which improves Year 7 and 8 students' reading, rewarding their progress by unlocking exclusive video tutorials from some of the UK's best freestyle footballers, beatboxers and breakdancers.
This is a free app aimed at teachers and children across primary and secondary age groups, using 3D design, electronics and coding to imagine, design and create.
Quizzes, videos and colourful animations to engage primary school children in learning from home, plus ideas for parents on how they can help with their child's learning.
Lots of fun activities and resources to help primary school children learn about space.
Reading, rhyming and other fun stuff…
All around the world people are putting bears in their windows for families to spot on their daily walks! For early years and primary school children, this site has reading recommendations by theme, age group and subject, and activity sheets for children to make their own bear and bear ears.
Join Alex Bellos and Ben Lyttleton for Football School Friday at 10am on the Football School YouTube channel.
Remember to follow Cumbria Libraries and Cumbria Library Services for Schools on Facebook, Twitter and Instagram for daily updates on great online resources to help you and your child learn and have fun at home, plus story times, rhyme times and book reviews brought to you by our fantastic library staff!

If you are interested in music, art, theatre, galleries, museums and all things cultural, these are "must visit" websites…..
British Tattoo Art Revealed: the virtual edition
This fascinating exhibition of British Tattoo art was planned as The Historic Dockyard at Chatham's Spring exhibition, but, a week before opening, Britain went into lockdown and so the doors closed and the exhibition currently sits in the dark. As only a handful of staff have had the pleasure of viewing it, the exhibition can now be seen virtually, online.
The critics pick of the best new arts shows to enjoy on TV, radio and online.
While in quarantine, why not have a fresh look at classical paintings, online.
Music making, games and activities from the musicians of the Royal Philharmonic.

Be inspired and get creative, with these amazing websites…..
Simple advice for parents and some well-explained activities for drawing, animating, making and keeping calm at home.
Tiny Revolutions to connect with others in the real world with creative challenges from Fun Palace.
Activities page of the campaign to highlight and make known all of the new opportunities that are being developed to help people express themselves at this time.
Finding inspiration right where you are with creative assignments by author/artist Keri Smith.
Make a film (National Film and Television School)
With the help of award winning filmmakers, find out how films go from script to screen with this free (super awesome) 6-week online film production training course from the BFI Film Academy's National Film and Television School. Suitable for secondary age upwards, the course starts on 11th May.
Make a Miniature Book (The British Library)
This webpage has some delightful examples of the teeniest, tiniest books you have ever seen. Beautiful, and perfect in every way, these books were designed to help children learn by reading to their dolls, and there are examples of books from the library of Queen Mary's Dolls' House, as well as books made by Charlotte Bronte and her siblings. There are also full instructions for children on how to make a miniature book at home for their toys.
Apps, Podcasts, and TV shows with real screen-appeal…..
Birdnet : Bird sound identification
Record bird sounds on your phone via this app, and it aims to identify the type of bird from its call. From nearly 1,000 of the most common species of North America and Europe.
Breathe, Think, Do with Sesame : Sesame Workshop.
A cartoon mindfulness app for younger children (2-5) helping the monster to problem solve a number of challenges and remain calm.
Free online colouring app – a fun and calming online colouring app that can help reduce stress and anxiety.
Fun history lessons for all the family, presented by Horrible Histories' Greg Jenner. Full of facts and jokes, the series brings to life a broad range of historical topics, many linked to the school curriculum. Live episodes broadcast on Mondays at 9.30am on Radio 4, catch up via the BBC Sounds App, and also online.
Listen to free podcasts and learn English, French, Spanish, Italian, German, Swedish or Chinese on the go, where and when it suits you. Short 15 minute conversational sessions.
George the Poets Podcast (BBC Sounds)
Award winning podcast from Ugandan born London spoken word poet George, social commentator and recording artist. Gold winner at the British Podcast awards.
How Did We Get Here gives listeners access to real life conversations with a clinical psychologist on family and parenting issues. Presented by one of the UK's top TV hosts, Claudia Winkleman and her good friend, clinical psychologist Professor Tanya Byron, the sessions recorded offer deep insight into every day issues with practical advice on resolutions.
Comedians Ed Gamble and James Acaster ask a different special guest/celebrity each week to put together their ideal menu of starter, main, dessert and drink and in doing so reveal quirky and intimate sides of their character you'd never have imagined.
Our library doors are currently closed but you can still access 500 audiobooks from the comfort of your home through uLIBRARY. Register for free and download the app to start listening. #TakeYourLibraryAnywhere

Useful websites to support your health and wellbeing…
Having good mental health helps us relax more, achieve more and enjoy our lives more. This website offers expert advice and practical tips to help you look after your mental health.
Set up by government, this website offers free and impartial money advice, with advice and guides to help improve your finances, Tools and calculators to help keep track and plan ahead, and support over the phone and online.
NHS Fitness Studio exercise videos
Take your pick from 24 instructor-led videos which cover the aerobic, strength & resistance, and pilates & yoga categories. These workouts have been created by fitness experts, InstructorLive, and range from 10 to 45 minutes, so whether you want to tone your abs or try belly dancing, this is the place to go.
For telephone and helpline information, as well as other helpful wellbeing sites, please see the below copy of the Cumbria County Council newsletter.