More in this Section
Cumbria County Council - The Library Edit Issue 7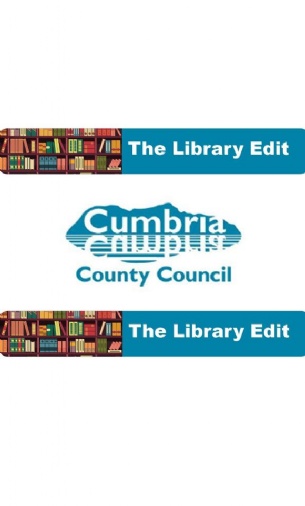 Cumbria County Council have been releasing newsletters containing some of the best websites and online resources to get you through lockdown, all chosen by library staff. Below is a selection of resources from this newsletter.

If books and reading are your thing, here's this week's "go to" websites …..
Yorkshire Festival of Story 2020

Normally based in the Yorkshire Dales, this festival has gone online this year with 80 different free creative story events including podcasts, workshops and competitions. From 1- 31 August 2020.
Author interviews

Head to the BBC Books and Authors webpage to find short clips and interviews of authors on Radio 4. There are 5 pages of little snippets from a truly eclectic mix of writers, and it is great "pick and mix" site for dipping into at random.
360-degree Library Tour

Missing your library fix? Take a tour of Harvard University's Harry Elkins Widener Memorial Library. This online 360-degree tour offers high-resolution views of the 105-year-old cultural heritage landmark, from its marble, neoclassical-style rotunda to its grand Loker Reading Room. You can also click around to read annotations on the building's history.

Links to learning…
Here are some good websites and apps to look at to find fun, free activities for your children while they're learning from home
The Kids Should See This

An award-winning collection of over 4,500 child-friendly videos covering everything from animals to art, food to space. Great for teachers, parents and curious kids.
Dekko Comics

Online comics that turn the Key Stage 2 curriculum into fun comic strips, helping to break down barriers to reading and engage reluctant readers. Autism and dyslexia friendly, they use colour-coding, footnotes and dyslexia-friendly fonts.
Pobble365

Aimed at Key Stage 1 and Key Stage 2 children, this site publishes a new image every day as a basis for creative writing and includes story starters, questions and drawing ideas.
NRich Maths

A range of maths based resources aimed at Early Years through to Key Stage 4 covering games, challenges and problem-solving skills.
Muddy Faces

From earthworm watch to creating giant ice marbles, a range of curriculum-linked and health and wellbeing resources that can be completed outdoors. Covers Early Years through to Key Stage 2.
Early Years home learning activities - What can I do this week?

Cumbria County Council's Early Years team share one activity a day, which includes Saturday and Sunday, based on a theme for the whole week. You can find these on the Children and Families Information Service Facebook page.
Reading, rhyming and other fun stuff…
Love Reading 4 Kids

Recommended fiction and non-fiction titles, categorised by age and theme, for babies and toddlers right through to 13+ and young adult. There are book reviews, competitions and a Kids Zone with activities and videos too.
National Literacy Trust Young Readers Club

Every week the National Literacy Trust will be releasing a new video featuring some of their favourite storytellers, poets and writers telling stories. Each video has a different theme and a fun challenge to complete.
Remember to follow Cumbria Libraries and Cumbria Library Services for Schools on Facebook, Twitter and Instagram for daily updates on great online resources to help you and your child learn and have fun at home, plus story times, rhyme times and book reviews brought to you by our fantastic library staff!

If you are interested in music, art, theatre, galleries, museums and all things cultural, these are "must visit" websites…..
ArtUK

An opportunity to learn about Cecil Beaton's Bright Young Things drawing on the exhibition at The National Portrait Gallery. This online offering explores the world of the infamous bohemian group of socialites, through the illustrious lens of the famed British photographer.
Alternatively, why not discover Laura Knight, a painter who dismantled institutional gender barriers. Fifty years since her death, this online exhibition explores the lesser-known aspects of her diverse practice which highlights her desire to represent the female gaze and subjects.
National Theatre

Still worth keeping an eye on this, with continued opportunities to enjoy world-class theatre online while the venue is closed. New shows are streamed weekly.

Be inspired and get creative, with these amazing websites…..
New York Tenement Museum

This wonderful museum has organised a series of interesting events, talks and experiences. Their YouTube channel is like a New York cupboard full of life streams, family events, hands on activities and public debate.
Molly Mahon Block Printing

During lockdown, British printer Molly Mahon has been making some inspiring videos for block printing at home, using potatoes to carve her designs, they provide a great introduction to block printing which may just become your passion! Her video can be found on Youtube.
Armchair Gallery

We can't all get to a gallery right now but this is a very classy app to bring a world of culture to you. There are opportunities to discover, play and create with your favourite artist from the collections at The Lowry, Pitt Rivers Museum, Chatsworth House Yorkshire Sculpture Park, Mr Straw's House & Newstead Abbey and Dulwich Picture Gallery, Colour a Caneletto, create your own Hepworth, take a selfie with Lowry and other tried -and-tested activities. Special features for people living with dementia.
The Turban Project

Get creative and sew your own medical face mask from a team who are used to providing medical textiles to help people stay well. A great video with easy to follow instructions - bring a little cheer using your own fabric and touch!
Apps, Podcasts, and TV shows with real screen-appeal…..
Podcasts
Women's Prize For Fiction 2020 shortlist special

The latest episode of the Women's Prize for Fiction podcast features intimate interviews with this year's six brilliant shortlisted authors. From Hilary Mantel to Bernardine Evaristo, find out how these wonderful writers have coped during lockdown, the inspirations behind their shortlisted books and what it would meant to them to win the 25th Women's Prize for Fiction in September.
How To Academy

The How To Academy podcast series takes you backstage to meet the thinkers shaping the 21st century. From polar explorers to climate activists, CEOs to cabinet ministers, you'll hear from the men and women making the world of tomorrow.
Ted Talks Daily

Every weekday, TED Talks Daily brings you the latest talks in audio. Join host and journalist Elise Hu for thought-provoking ideas on every subject imaginable — from Artificial Intelligence to Zoology, and everything in between — given by the world's leading thinkers and creators. With TED Talks Daily, find some space in your day to change your perspectives, ignite your curiosity, and learn something new.
TV
Alan Bennett's Talking Heads

New versions of Alan Bennett's much-loved monologues, with performers including Sarah Lancashire, Martin Freeman, Kristin Scott-Thomas, Jodie Comer and Maxine Peake. Filmed during lockdown and available now on BBC iplayer.