More in this Section
UVHS Celebrates Students' A Level Success!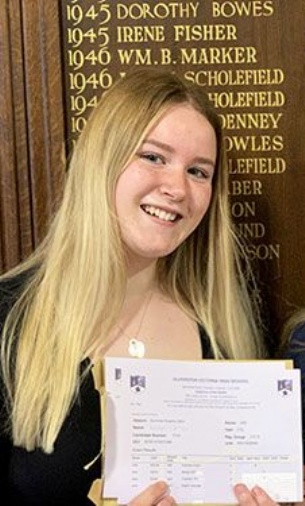 UVHS would like to congratulate all of our students collecting their A Level results today, and as a school we are incredibly proud of their superb achievements.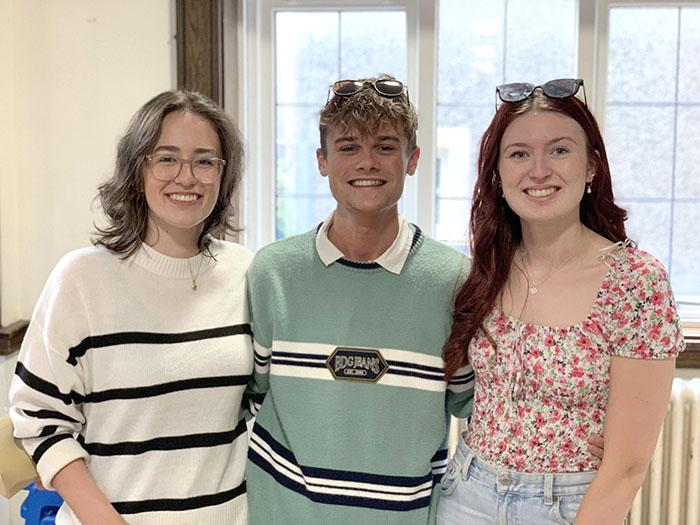 A school record 87% of Year 13 students have been accepted into their first-choice universities with several other offers pending. A considerable number of students have also qualified to take up highly sought after higher apprenticeships and degree apprenticeships with the likes of BAE in particular.
Head of Sixth Form Rob Rastelli said: "I am really impressed with the overall performance of our year 13 cohort; it reflects the commitment, dedication and sheer hard work that they have put in during their time at UVHS, both inside and outside the classroom –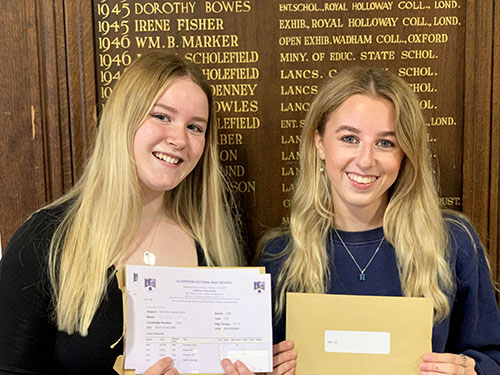 the excellent results they have achieved are fully deserved. As usual, it has been an absolute privilege and pleasure working with these students and I wish them all the brightest of futures."
Matthew Hardwick, Headteacher said: "We are yet again delighted with the outcomes that this year's UVHS Year 13 students have achieved and are proud of each and every one of them. These results reflect how a true learning community can come together against adversity in order to provide the very best opportunities for our young adults. Not only is it down to the incredibly hard work and commitment demonstrated by each and every student, but also the dedication and quality of our teaching and support staff alongside the superb levels of encouragement and focus fostered by parents and families."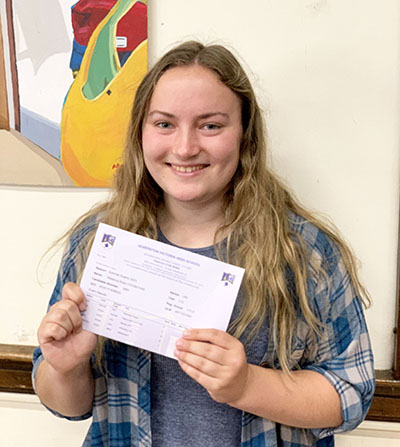 Rebecca, who achieved two A*s and three A grades, will be going on to study Veterinary Medicine at Cambridge after taking a gap year. She said: "I'm surprised, especially with Chemistry as I thought I had flopped on one of the papers! I'm looking forward to Cambridge – it's a beautiful city - but first I'm going to take a gap year which will involve training to become a scuba diver and volunteer in Indonesia."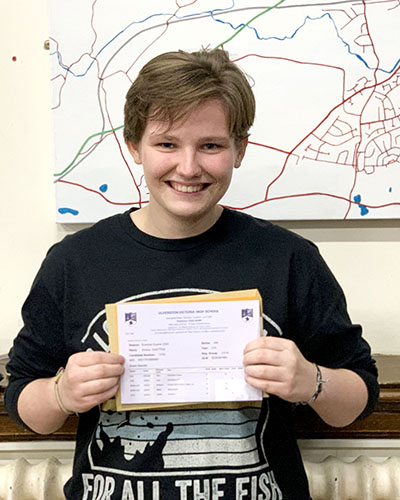 Emma, who achieved five A*s and will be heading to study Natural Science at Cambridge, said: "I wasn't expecting it to be this good. I'm still in shock and not sure yet how I'm going to celebrate.
"I worked hard for the results and definitely see A-levels as a stepping stone to university."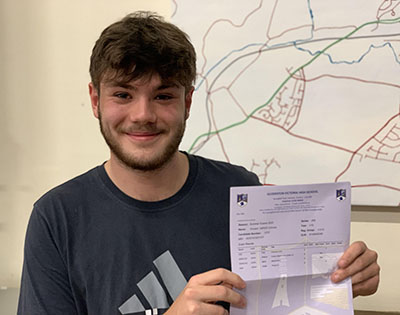 Vinnie, who achieved four A*s and will study Physics at Manchester University said he was also surprised by his results. "I thought some of the Physics exams were really hard, so it's a massive shock to get these grades.
"I'm going to go and tell my grandparents now as they've asked me to let them know, and then basically celebrations can begin!"
Cameron, who is going on to study Physics at Oxford University after achieving 3 A*s and an A grade, said: "Oxford will definitely be a big change, but it's a really nice city so I'm looking forward to it.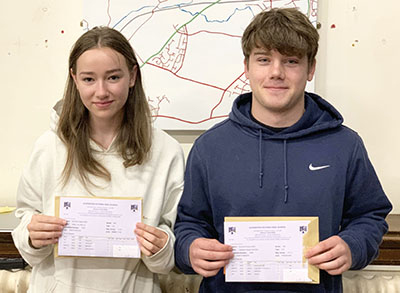 "I found out this morning on UCAS that I had got in, so that was a relief. But it's great to find out I've got these grades and know the work that's been put in has paid off."
Gillian, who will study Medicine at Cambridge University after achieving 3 A*s and a B, said: "I was so nervous this morning. I checked UCAS and could see I had got in but obviously didn't know my actual grades until I got into school." When asked about her plan for the rest of the day she said, "Well I'm actually going to work today at the café at Brantwood, so celebrations later!"
Amelia, who is going on to study Chemical Engineering at the University of Aberdeen after achieving two A*s and an A, managed to juggle A-levels and her swimming training, which regularly sees her in the pool as early as 6am four times a week.
"It has definitely been hard to manage both and I have had to compromise on the social side of things at times," said Amelia, who recently achieved a bronze medal in the 100m front crawl at the Scottish National Championships. "But it's worth it today with these results."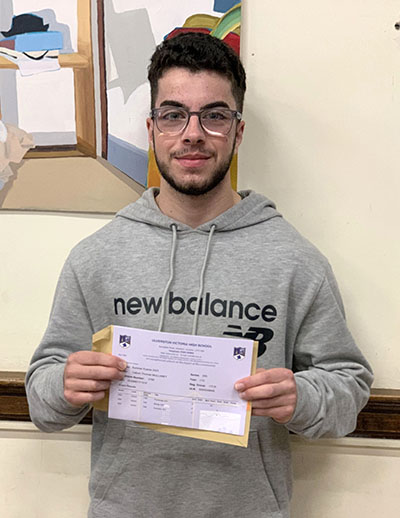 Will, who achieved 3 A*s and will go on to study Politics and International Relations at Manchester University, said: "I didn't think they would be this good. I knew I had got into my first choice but I was not expecting to see 3 A*s, so I'm delighted"
Callum, who similarly achieved 3 A*s and will study Chemistry at Lancaster, said: "I'm shocked to get all A*s. I would say Biology was the toughest A-level, and I found those exams the hardest. I'm just really pleased and looking forward to going to Lancaster."
The majority of schools in Cumbria have decided to co-ordinate publishing aggregate results data in early September. This is to allow the performance to be thoroughly checked and include the normal remarks and appeals processes. By doing this schools, the media
and parents can be confident that the reviewed data will be consistent across all schools and will be subject to little change afterwards.
The data will be published in good time to ensure it is available to parents and pupils making decisions about secondary school applications. However, we at UVHS will still be celebrating the many individual successes of our students as we have always done, including:
| Student | Grades | Subjects | Destination | Studying |
| --- | --- | --- | --- | --- |
| Emma | A* A* A* A* A* | Maths, Further Maths, Chemistry, Physics, EPQ | Cambridge | Natural Sciences |
| Vinnie | A* A* A* A* | Maths, Further Maths, Chemistry, Physics | Manchester | Physics |
| Cameron | A* A* A* A | Maths, Further Maths, Physics, Computer Science | Oxford | Physics |
| Will | A* A* A* A | English Language, History Sociology, EPQ | Manchester | Politics and International Relations |
| Lara | A* A* A* | Maths, Biology, Chemistry | Newcastle | Maths |
| Callum | A* A* A* | Biology, Chemistry, Psychology | Lancaster | Chemistry |
| Gillian | A* A* A* B | Maths, Biology, Chemistry, English Language | Cambridge | Medicine |
| Rebecca | A* A* A A A | Biology, Chemistry, Maths, History, EPQ | Cambridge | Veterinary Medicine |
| Ross | A* A* A | Law, Sociology, History | Warwick | History |
| Amelia | A* A* A | Maths, Biology, Chemistry | Aberdeen | Chemical Engineering |
*EPQ is the Extended Project Qualification