More in this Section
FutureChef 2022 Update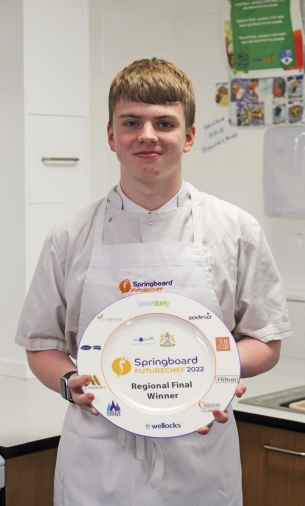 With MasterChef, The Great British Bake Off, Beat the Chef, and The Great British Menu amongst many others, we are spoilt for choice with TV cooking competitions. A little closer to home though and UVHS is celebrating the victory of our very own FutureChef! Cameron (Year 11) represented UVHS and Cumbria in the Regional Finals of FutureChef in Manchester on the 4th of February.
UVHS has entered the FutureChef competition multiple times since Mr Hall joined the school seven years ago. Each year starts with initial school heats, and this year contestants were tasked with making a main course dish spending no more than £10. Dishes in this heat included Beetroot tarte tatin, lentil and watercress salad, roasted honey parsnips, goats cheese, and a cider dressing, Porcini mushroom bonbons, sun-dried tomato and chilli pesto, and spaghetti, and then Cameron's winning dish of pan seared cod, reduced chorizo sauce, thyme fondant potato, tempura tender stem and pickled onion.
So began the next round, the local finals. With some disruption thanks to Covid, this again took place in school with Cameron producing a stunning main course of Pan seared scallops and salmon, roasted cod, crushed new potatoes, asparagus, and white wine sauce, followed by a classic Apple Tarte Tatin, Chantilly cream. Cameron's victory at this stage then meant he was heading to Manchester to compete in the regional finals against other contestants and schools in the North of England.
The regionals took place at the coveted Manchester College, renowned by many for the calibre and quality of its catering facilities and courses. Unfortunately due to Covid (again), numbers were limited, so Mr Hall was unable to travel down to see how his star student got on. Cameron was again tasked with creating a main course and dessert dish, and this time Cameron demonstrated that his skills are just as impressive with proteins other than fish. His menu consisted of water bath and pan seared chicken with vegetables and chicken jus, followed by rhubarb cheesecake. The judges were impressed with Cameron's dishes, but also his methodical working methods and passion. He was crowned the regional winner and now heads to London for the grand final on the 14th March.
Cameron's love and passion for food and cooking is leading him to a career in Food, he is hopeful of receiving a place in the Simon Rogan Academy upon leaving UVHS. Something his Food Teacher Mr Hall, and the wider school community is incredibly proud about.
We would like to congratulate Cameron on his success so far, and wish him the very best of luck with the FutureChef Final, and his application to the Rogan Academy.