More in this Section
Cumbria County Council - The Library Edit Issue 10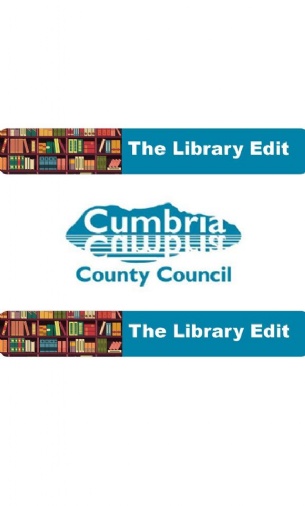 Cumbria County Council have been releasing newsletters containing some of the best websites and online resources, all chosen by library staff. Below is a selection of resources from this newsletter.

If books and reading are your thing, here's a selection of "go to" websites …..
Now the nights are drawing in it's a perfect opportunity to catch up on some reading, so this month we are highlighting 3 excellent book recommendation websites, to help you find that perfect autumn read:
Goodreads

Goodreads is a sort of reading journal but with added extras – it allows you to create virtual bookshelves of the books you are currently reading, the ones you have already read, and the books you would like to read. You can add reviews and star ratings, find book recommendations and also join online book groups to discuss and share reviews and recommendations.
What Should I Read Next?

Enter the title of a book you like into the search box and this website will analyse a huge database of other readers' favourite books to provide book recommendations and suggestions for what to read next.
Whichbook

Whichbook is an amazing web tool to help choose a book based on the kind of reading experience that you are looking for: are you in the mood for something funny and optimistic? Or would you prefer something poignant and a bit sad?

You can move the mood sliders on Whichbook to match exactly what you want and then see what comes up. You can choose the race, age, gender and sexuality of the main character, you can stipulate the country where your book must be set and you can even decide on the kind of character and plot you want, after which you are offered a choice of suggested titles - just click on any of the book covers it brings up to get the book details, and you can then Borrow or Buy. If you opt for Borrow, it brings up a choice of UK library services with a link that goes straight to author/title in the catalogue, so that you can see which branches hold it.

Designed to work on tablets, phones, PCs and Macs this is a great way to discover a book that suits your mood, likes and wants.

Here are some good websites and apps to look at to find fun, free activities for your children:
Tiny Happy People

The BBC's Tiny Happy People is focusing on 'routines' and how daily routines are a great learning opportunity for your baby, toddler or child.
BBC Bitesize

BBC Bitesize will continue to support pupils and teachers throughout the Autumn Term with curriculum-based content, fun facts, quizzes and activities including the return of live lessons. For ages 3 to 16 plus.
Words for Life

The National Literacy Trust has developed the 'Words for Life' website to provide families with activities to support their children's literacy at home. Filled with themed book lists, quizzes and creative activities to help children from 0 to 12 improve their reading, writing and communications skills.
Reading, rhyming and other fun stuff…

Authorfy – 10 Minute Challenges
For a daily dose of creative writing fun, visit the Authorfy website and try a 10-minute challenge! Set by bestselling children's authors and illustrators there's a new challenge every day ranging from creating your own animal adventurer to what three things you'd put in a black hole and why!
Wokingham Children's Book Festival : Saturday 17th – Sunday 18th October 2020

A free online festival where you can meet and listen to talks by 10 children's authors - suitable for 3-12 year olds.
Cheltenham Literature Festival: 2nd -11th October 2020

All age literature festival with live streamed events and on demand activities for families and children. 130 events over 10 days featuring award winning authors from all literary genres.

Useful websites to support your health and wellbeing…

The Poetry Health Service

Founded by poet, playwright and performer Hafsah Aneela Bashir, as a response to lockdown, the Poetry Health Service (PHS), is a brand new, free creative service that prescribes contemporary poems as a tool for connection and healing, to promote mental and emotional health and wellbeing.
Flu Advice

Everything you need to know about this year's flu vaccination, and what you can do to look after yourself and your family this flu season.

If you are interested in music, art, theatre, galleries, museums and all things cultural, these are "must visit" websites…..

An eclectic mix for Culture Vulture this month which reflects the ever-evolving situation across the country during the current pandemic, but there are some good pickings…

Handmade in Britain

Handmade Chelsea Online is an interactive virtual craft fair which it taking place from 10 November 2020 - 15 November 2020 and it's free to attend. The virtual fair will showcase a handpicked selection of UK-based contemporary craft makers producing exceptional products including jewellery, textiles and fashion, glass, ceramics, wood and furniture. Visitors from across the world will be able to watch live demonstrations and attend Q&As.
Royal Geographical Society

This Autumn most of the Society's events are taking place online and topics range from digital mapping systems to extreme weather, fungi or finding out about how young James Watt was inspired by the steam of his aunt's tea kettle. The one not to miss however is by Cumbrian artists Harriet and Rob Fraser; Sense of Here explores how we might get to grips with the complexity of rural spaces, national parks and protected areas to bring multiple points of view together. The artists will talk about how we connect with the places around us, and in light of environmental pressures how we can go forwards together, it's on 6 October 2020
The British Museum present British Sign Language Tour: Gods and Goddesses of Roman Britain

This free event explores how classical mythology, local beliefs and Christianity shaped the lives of Roman Britons. Join Edward Richards for this live-streamed tour, exploring how the British Museum's collections in Room 49 and Room 50. This online event is an opportunity to see how the Roman occupation of Britain dramatically transformed the material culture of the province. The event is in BSL with no voice-over captions.
Hold Still: The UK lockdown in pictures (National Portrait Gallery)

The final 100 images of a project launched by the national Portrait Gallery inviting the nation to capture lockdown in a picture.
Useful apps and digital entertainment with real screen-appeal…..

NHS COVID-19 app

The NHS COVID-19 app will:
- alert you if you have been near other app users who have tested positive.
- let you know the level of risk in your postcode district.
It will also allow you to
- check-in to venues and get alerted if you may have come into contact with a positive case.
- check your symptoms.
- book a test and get your results via the app.
- keep track of your self-isolation and access advice.
You can download it via on the Google Play Store and Apple App Store, or directly from the NHS website:
Mindful Mix

10 episodes available on BBC Sounds using various relaxing music and sounds to help you relax, de-stress and aid with sleep.
Where To Go Podcast

The well-known publisher of travel guides, DK Eyewitness, is launching a new travel podcast, "Where To Go", which will discuss travel in the context of "a new era where restrictions and precautions are ever present".

Released fortnightly, the episodes will cover the impact Covid-19 has had on people's holiday plans, and the effect of the pandemic on the world's leading tourist destinations, as well as sharing hopes and insights into what travel might be like in 2021. The episodes are also designed to go "hand in hand" with the DK Eyewitness travel guides.
The podcast is available from Acast, Apple and Spotify.
Sky Arts Book Club Live

You wait for a book club programme to come along and then two arrive at once!
In the 9th edition of The Library Edit, we flagged up the news about the new BBC 2 Book
Club, Between the Covers, which begins on Friday 9th October. Now Sky Arts has announced that it will also be launching a new book club programme, called Sky Arts Book Club Live, on 18th October. The programme will air live on Sky Arts, and, as Sky Arts is now available to watch on Freeview and Freesat, on channel numbers 11 and 147, you don't have to be a Sky subscriber to watch it. You can also watch it live on @SkyTV Facebook.
Michael Rosen - Youtube

Michael Rosen is everyone's favourite and has national treasure status. His 'Kids' Poems and Stories with Michael Rosen' channel has over 200 videos, and new ones are being added all the time.