More in this Section
Year 11 Curriculum
Courses Offered at Year 11 (2017/18):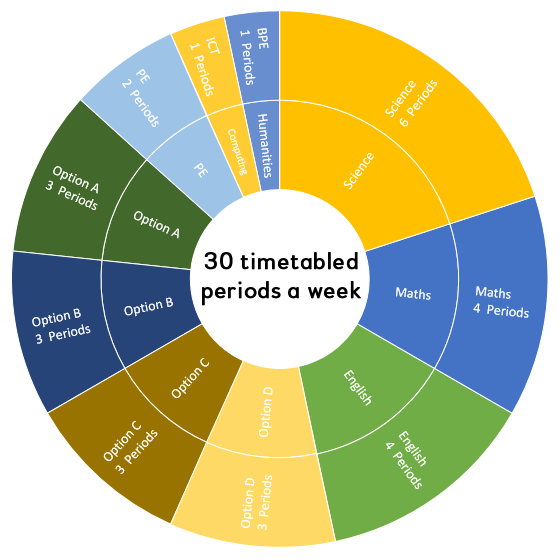 All students study Maths, English and Science which are set by ability.
IT, BPE and PE are taught in mixed ability forms.
All students study four option subjects one of which must be an Ebacc subject (French, German, Separate Science, Geography, History or Computer Science) for which they are taught for 4 periods instead of 3. See Option Blocks below.
Some students are removed from option sessions for additional English and Maths support in Study + lessons.
Options A
Options B
Options C
Options D
History
Law
French
Art
Computer Science
Catering Express
Geography
History
BPE
Geography
Law
Geography
Geography
German
History
Music
German
IT
BPE
IT
Seperate Science

Resistant Materials

Express (with

Engineering)

Product Design
Art
Health & Social Care
Fashion & Textiles
Drama

Resistant Materials

Express (with

Engineering)

Resistant Materials (counts as 2

options)

Resistant Materials (counts as 2 options)

Catering (counts as 2 options)
If you require any further information on the curriculum we offer then please contact Mr Hardwick (Headteacher) 01229 483900 or email uvhs@uvhs.uk